How MNR solutions can help you get the right Talent?
.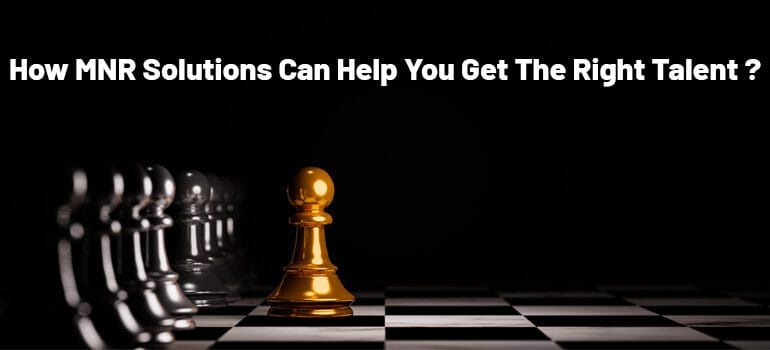 In 1997, Steven Hankin of McKinsey & Company coined a term called 'war of talent' to indicate the increasing aggressive race of attracting and retaining employees when there were only a few workers available to replace them. Steven Hankin used this phrase in his book by the same name in 2001 and the term kind of stuck as an industry nickname for HR strategies that tried to prevent workers from departing the workforce for better prospects.
Come 2022, the term is still relevant with some of the biggest disruptions happening in the Talent Acquisition space. With the digital explosion, technological innovation, social media growth, talent mobility, and demographic richness, we are operating in one of the fiercest times in history when it comes to talent acquisition and management.
MNR Solutions – The leader in Talent Acquisition
With the market flooded with specialized-domain jobs, finding the right employee is one of the main concerns of an organization. To ease this wrinkle in the hiring process, MNR Solutions provides a few distinct, industry-relevant strategies that help organizations acquire the skilled talent that makes a difference to their overall productivity.
Being one of the best executive search firms in India, MNR Solutions offers organizations and candidates, a mutually beneficial advantage between experiences, company values, growth opportunities, and benefits to achieve a wholesome absorption into the existing workforce. To meet such specific requirements, we provide the following services to help organizations achieve the right talent for industry-specific roles-
Recruitment Process Outsourcing (RPO)
For organizations undergoing a change in the transfer of personnel, MNR Solutions offers RPO or Recruitment Process Outsourcing services to enable a smooth transition of duties. Regarded as one of the best RPO services in India, we employ a thorough methodology in providing staff and an able-bodied process for different business models.
This approach has enabled organizations to hire some of the best human resources in the market for their domain. Thanks to the smooth transition process, we have been able to extend our services to all regions of India and are regarded as one of the best executive search firms in India.
Permanent Staffing
Another area of our services involves the coverage of the C-suite talent in the industry. Partnering with experts who help to find the right C-suite candidates is one of our key areas of function. To enable a seamless transition of duties, we conduct in-depth analysis for clients and candidates, sets up interviews and initial client meets, conduct background checks, etc. for easy hiring.
For requirements of managerial positions or head roles for a specific domain in conglomerates and start-ups, MNR Solutions have one of the best personalised services regarded by industry experts and organizations in the country.
Executive Search
Known as one of the best executive search firms in India, MNR Solutions is well aware of the transition phases that happen due to market shifts and global changes. Executive research, hiring, and placements are some of the biggest challenges that organizations are changing as the global landscape seems to be rewritten with remote work options during the post-pandemic phase. However, MNR Solutions is abreast with the changes and offers recruitment and consulting services to all sectors including IT executive jobs, healthcare executives, and others to fill the skillset gap that now looms over the market.
Managed Services
A highly refined hiring strategy, managed services provide human resources for both offshore and onshore requests when there is a sudden spike in the manpower requirements. With in-house HR consultants for critical hiring of highly industry-specific talent, MNR Solutions can assist you in achieving a seamless hiring process within a given timeframe.
From hiring affordable onshore and offshore staff recruitment to deployments, MNR Solutions offer an end-to-end recruitment service that is structurally organised for easy on boarding.
Shared Service Centres
With MNR's Shared Services, duties of the HR administrative and operations are taken care of by automation and employee self-service. By leveraging technology, we provide multi-tiered levels of service that allow companies to effectively provide faster way of HR services. With aspects such as payroll, benefits and leave administration, employee data management, recruitment operations, relocation services, learning services, reports, analytics, etc. all taken care under a single model, HR services has become highly coordinated, strategic, and consistent in performance.
This improves the overall efficiency, employer and employee experience, operational excellence, consistency, compliance, and other areas that need individual scrutiny.
Contract to Hire
Managing contract employees is very tedious at times, especially when there are aspects such as talent retention and/or layoffs. Moreover, contracts are hard to finalize when there is a sudden demand for industry-specific professionals and the skillset gap is huge in market.
To effectively water through such troubled waters, MNR Solutions offers some of the best contract to hire strategies to keep critical projects floating and enable an end-to-end transition process at the hiring stage itself. With temporary and permanent staffing solutions, MNR is regarded as one of the best recruitment agencies based in Noida.
Expat Hiring
With immense experience in expat hiring, MNR Solutions facilitates adherence to hiring global talents that are recommended for certain roles that need specialized know-how. From discovering new talent to recruitment to easy exit interviews, MNR Solutions provides an easy hiring experience for both industries as well as individual-based requirements.
International Hiring
An extension to expat hiring, MNR Solutions also provides International hiring of talent and helps businesses connect with international talent. With a rich hiring experience for the market in the Middle East and Western countries, MNR Solutions helps from the grass-root level of screening, interview, hiring, and transition processes. Considered one of the leading international recruitment agencies in India, MNR Solutions excels with its rich contact with many global partners for leading businesses.
Kloud Staffing
A new addition to our services, Kloud Staffing has quickly become the new normal given the pandemic and the need for remote working professionals. With some of the best recruitment programs for remote work opportunities, MNR Solutions has quickly adopted this segment for talented professionals and companies looking to perform their business remotely.
MNR Solutions is one of the recruitment agencies based in Noida, India, and has been helping industries gain insight into market changes in human resource requirements. To know more about our services reach out to us at +91-852-739-1758 / +91-981-090-3806 or fix an appointment by writing to us at [email protected] today.