Hiring right for the IT industry
.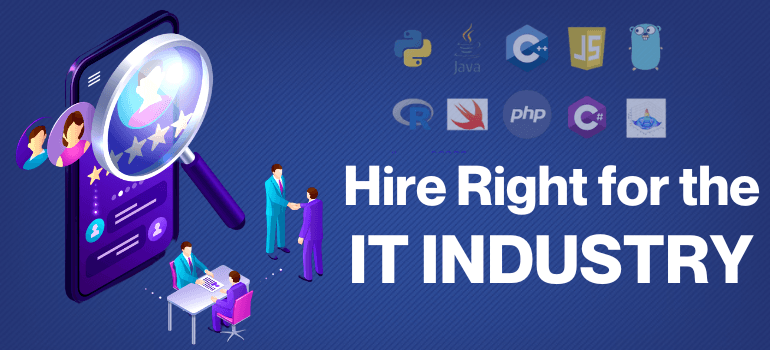 The current state of IT recruitment in India
The pandemic pushed corporate digitization to a new level and the recruitment process has seen some of the most innovative strategies to accommodate paradigms like remote and hybrid work as a mainstream aspect in the corporate sector. And this trend has greatly improved the quality of hiring in the IT industry.
Unlike other industries where there is a need for personnel interaction on a physical level, the IT industry can, on a majority, function on a virtual level. This has greatly increased the prospects of hiring good talent without geographic limitations for many IT staffing companies.
However, hiring the right talent for a recruitment agency is still a huge responsibility and the process of hiring has now changed significantly. Post-pandemic, India is finding it hard to cope with the rising need for tech experts as the demand outweighs the supply. Such a candidate-driven market, where the options of good opportunities are more, often puts a business in a lurch when they need qualified IT professionals.
Hiring right for the IT industry
With a steady rise in specialised roles in the IT domain, an IT recruitment agency has now new challenges while finding the right talent for the industry. The hiring process has to now understand the new roles and do their due diligence before actually hiring a new candidate. Moreover, it's a common sight now that the tech sector in India, although has a high hiring rate, it also faces a high attrition rate.
Candidates are aware that they can capitalise on this boom and has the luxury to find abundant opportunities. This makes the work of the hiring process even more challenging. Only competent IT staffing agencies who are well acquainted with the current market trends and customer requirements can help businesses recruit quality IT personnel.
That is why your first move for hiring the right candidate must begin with the services of an IT recruitment agency. With remote and hybrid structures becoming a common thing now, there is a need to hire a competent and diverse workforce.
MNR Solutions for your IT needs
With 15+ years of experience in the hiring process, MNR Solutions have been instrumental in providing a competent workforce to the IT sector catering to top 500 fortune companies. With a highly efficient and curated recruitment process, we have been able to provide the right talent to many leading names in the IT sector and are known among the best recruitment staffing agencies in India.
To know more about our services, please reach out to us at [email protected]  or [email protected] give us a call at +91-852-739-1758, +91 98109 03806 or +91 74280 07446 for an appointment today.
Fast Job