How is MNR Solutions different from others ?
.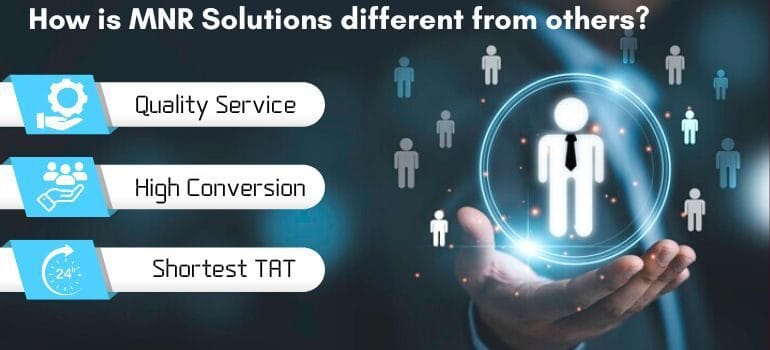 How is MNR Solutions different from others ?
The job market is on a gradual shift and the landscape is experiencing the brunt of post-pandemic pressure, not only on the industry level but also at the individual level. Many companies executed mass layoffs during the pandemic and today those professionals are finding it hard to get the right jobs. And companies are looking for fresh talent in the market to meet their new infrastructure.
With our refined staffing services in India, we at MNR solutions have some unique strategies to help people find the right employment opportunities and integrate them with industries of their choice. And for organizations requiring refined talent for their upcoming initiatives, MNR Solutions employs some of the tried and tested approaches and then some more. Here are a few key differentiators that set us apart from our competition and help you get the right connection for your career and organizational growth.
In-depth analysis
MNR Solutions emphasises doing our due diligence. Whether it is for a professional or an organization – MNR goes deeper to understand the requirements as the first step. By setting up interviews with the client, we explore and understand what the job needs, and then we look for talent in the market. With key job markers set in our minds, MNR screens through the crowd of professionals and bring out only relevant candidates for any job requirement.
Long-term commitment
AT MNR, we focus on the quality of association as one of the markers while providing our services to organizations. No one wants to deal with low-quality employees; that is why we look for long-term staffing relationships with our clients by providing exactly what you ask for.
Reduced risk
MNR Solutions looks after all the legal responsibilities – from covering insurance terms, contract clauses, labour law compliance, tax pays, unexpected leaves, layoffs, etc. to reducing any operational or financial risks while hiring potential employees. Depending on the type of positions in an organization, we crosscheck all employment-related details that are legally binding for all contract employees. This reduces the risk to organizations and they can experience a seamless work environment with an excellent talent pool.
Meticulous and structured hiring models
Be it cloud hiring or permanent staffing solutions, MNR takes pride in being one of the top executive search company in India and we owe it to our thorough and meticulous hiring structure. From gauging the physical requirements of our client's work and keeping abreast of the available talent pool for high-demand industry roles, we also look for diverse talent even in the lower levels of recruitment. For instance, while recruiting for industry-specific roles, we look for people who have diverse knowledge about automated and ERP systems to enable a wholesome working environment and sharing of responsibilities. This level of attention has enabled us to always provide some of the best professionals for our client's requirements.
Creating a difference in the life of a potential candidate
At MNR, we are proactively involved in making an effort that can prove to be a positive change in the life of a potential candidate. A lot of hopes and dreams ride on the existence of a good job prospect for most of the candidates. We try to enable a functional and satisfactory relationship with their potential career options and add value to their life. A part of our effort goes into providing what the clients want on a professional level but at the same time, we also focus on the professional relationship between the employer and the employee so that they can mutually engage in a gainful opportunity.
Conduct training in case of any gaps
We offer training to industry professionals and HR members to keep them acquainted with the current trends, job requirements, available job opportunities, technological developments, legal requirements, etc. Our approach helps organizations make informed choices and avoids the prospect of risks in all their hiring processes.
Supplying ready-to-work candidates
Most of the requirements that we encounter in the market are from organizations looking for long-term work prospects. However, there are certain situations where the requirement is for a short-term basis like shutdown works. In such scenarios, MNR solutions have a large database of potential candidates that are available quickly. Due to this many industries rely on our swift process and the on boarding process becomes easy saving time.
Speed to placement
When there is a requirement for swift fulfilment of candidates, it becomes hard for any recruitment agency to provide a quality service. Without getting the due diligence done, companies often experience flaws in their hired workforce. To circumvent this, we always maintain a long-term, functional relationship with top talent in the market even when they are employed. This helps us to pitch current requirements to them and also know their interests, referral sources, and other important prospects. Thus we keep our database up-to-date for peak hiring periods and enable a speedy placement service.
MNR Solutions – Making a real difference to your organization
On a closing note to the topic of how MNR Solutions are different and can help you – we would like to state that we employ methods to have a deep understanding of every industry we serve. It is unlikely to build our trust on words alone therefore we take an active interest in industry requirements by hiring a team adept in the workings of that particular domain. We aim to align our supply of recruits to your specific needs and provide value through our efforts. It is our conscious effort to look out for our client's long-term interests and enable them the future they envision.
Likewise, we envision being the best staffing services in India by providing excellent manpower resources. Considered one of the best companies for executive search, MNR can be your extension to a hassle-free hiring process.
To know more about our services reach out to us at +91-852-739-1758 / +91-981-090-3806 or fix an appointment by writing to us at [email protected] today.